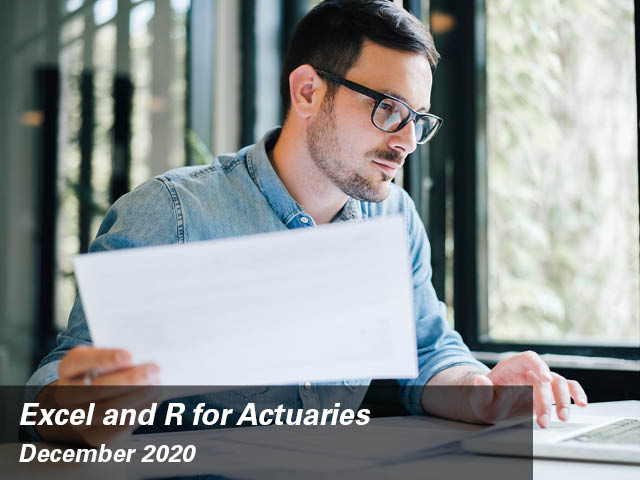 CAS Student Central is excited to present Excel and R for Actuaries as this semester's CAS Student Central webinar! This pre-recorded 90-minute webinar covers a variety of common uses and functions relevant to each software package while utilizing real data from the CAS Personal Property Auto Data Set.
Learn how to build and explore loss development triangles using the popular "tidyverse" suite of R packages, and obtain an overview of some essential Microsoft Excel functions and techniques for data exploration, including SUMIFS/COUNTIFS, IF statements, VLOOKUP, and PivotTables.
Meet the Presenters
Brian Fannin, ACAS, CSPA, MAAA has been an actuary for over 20 years. Brian has been Associate of the CAS since 2002 and a Certified Specialist in Predictive Analytics since 2017. He has worked in a variety of roles in commercial insurance, both primary and excess, here in the US as well as Europe, London and Asia. An early proponent of R, he has taught various workshops and seminars for the CAS, Actex and insurance clients. He joined the staff of the CAS in March of 2018 as Research Actuary. His focus is to enable CAS committees and research partners to work efficiently in developing relevant, practical content.
Jaris Wicklund, FCAS, MAAA is a Lead Pricing Actuary for Personal Lines at The Hanover Insurance Group, where he has worked for 13 years in a variety of actuarial and non-actuarial roles.  He has been a CAS volunteer since attaining his Fellowship in 2015, and is currently the vice chair of the University Engagement Committee.  Jaris is a graduate of Worcester Polytechnic Institute and lives in Acton, MA with his wife, Jaime, and their 13-month-old son, James.
To expand your knowledge and sharpen your skills in Excel and R, access the webinar recording now!
---
Mark Your Calendar
---
Search CAS Directory
---