Being Out, Open and Proud in the Workplace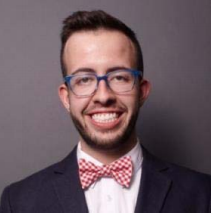 It was my junior year of college when I finally decided to text my best friend one night, "I'm gay." Though it was a freeing experience, I knew I'd have more choices to make about coming out going forward. During my first internship, I really wanted to receive a fulltime offer that would help make my senior year much less stressful, so I made it a goal to hide my sexuality. Everything I said and did was calculated, in hopes that I would "cover" my identity. I justified being "in the closet" because I didn't know who was making the final decision and their views on the LGBTQ+ community.
When I returned to the UConn campus that fall, I focused on starting to fully embrace my identity. I had my first boyfriend who really pushed me to be my authentic self. I held his hand in public. I proudly told people I was a gay male, and I didn't let the nerves win. This led me to begin challenging the idea of being closeted at work. I began to realize that if a company didn't embrace the unique perspective I was bringing to the workplace, then ultimately they didn't deserve to have me on board.
I received a return offer and started my actuarial career in June 2014. This time, I went into the office with a renewed perspective. I decorated my desk from day one to show my love for my community. I had rainbow flags at my desk, a Little Mermaid statue (my favorite Disney princess, of course), and signs that reminded me to be proud of who I am.
I won't pretend that every day was easy. There were times where I felt excluded from the office conversations between all the straight men, and I really wanted to fit in. The few times I brought up topics that interested me, I felt looks come my way. In fact, one of my straight male coworkers told me how uncomfortable he was when I chose "Who is your favorite Disney princess?" as our team's question of the week. I quickly turned this back on him and let him know that our weekly conversations about the New England Patriots made me feel similar, and I think a light bulb went on for him.
It wasn't until I left my first company that I really became passionate about making the insurance industry and the actuarial profession a place where LGBTQ+ individuals can thrive. At that company, I took a role to lead the LGBTQ+ employee resource group (ERG) and consistently pushed for educational opportunities that helped better the organization. I was met with support from my direct management and the company as a whole. I have met so many amazing people that are members of the community and allies that make me realize how comfortable I am being myself in this profession.
A few months ago, I started a third new job. When I was interviewing, I made sure to reference my partner and the work I had done with the Pride ERG. I wanted to make sure that this was a company I would feel comfortable working for. When the hiring manager started asking questions about my work with Pride and my partner, I knew this was the right fit for me!
Starting a job and a new career can be daunting. Being a member of the LGBTQ+ community can make this even more challenging. Since this is often a facet of our identity that is not visible, we are faced with a decision about being our authentic self. And though it is hard to be LGBTQ+ in the insurance industry at times, I don't at all regret being out, open, and proud. Below are some tips and tricks that I live by and might be helpful for others!
It is okay to bring your authentic self to work each and every day, if you feel safe doing so. (I don't hide my sexuality, piercings, tattoos, etc.)
You can factor in whether a workplace will be accepting of your identity when you decide to accept an offer of employment.
Accept that the LGBTQ+ community is often not fully understood, and what might feel like an attack by someone outside could be used as a teaching moment.
Know that there are so many wonderful LGBTQ+ actuaries and allies out there to speak with. You are not alone!
Speak to a member of the LGBTQ+ community in the profession about their own experience, because each one is sure to be different.
Become a member of the Sexuality and Gender Alliance of Actuaries (SAGAA). This group is there as a resource for LGBTQ+ actuaries and allies. SAGAA has a Linkedin page (https://www.linkedin.com/company/sagaactuaries/), an Instagram handle (https://www.instagram.com/sagaactuaries/) and a website (https://www.sagaactuaries.org/) that will be launching soon!
---
Mark Your Calendar
---
Search CAS Directory
---