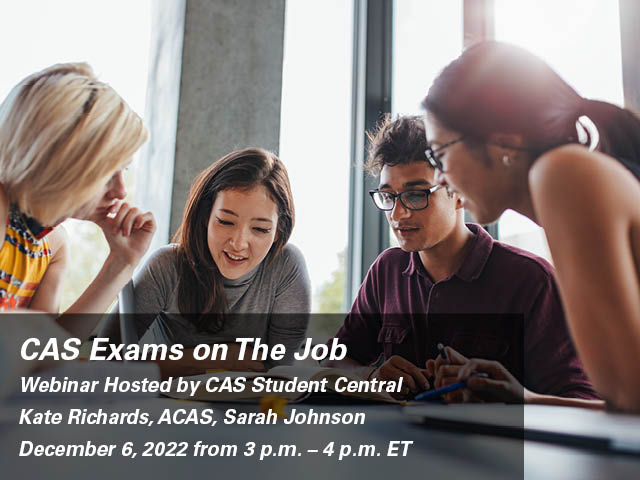 Why do candidates spend hundreds of hours studying for actuarial exams? Watch the recently recorded Student Central webinar, "CAS Exams on The Job" to find out! 
Presenters, Kate Richards, ACAS, and Sarah Johnson dive into real work examples of how exam topics play out in the Property and Casualty Industry. This webinar walks through topics such as frequency and severity distributions, predictive models, bootstrapping, and reinsurance, to help students get a grasp of the value that the CAS exams can bring to your career. 
To access additional webinars, check out the CAS Student Central Webinar Library! 
Meet the Presenters
Kate Richards, ACAS
Kate Richards attended Drake University, where she double majored in Actuarial Science and Data Analytics. While at Drake University, Kate was a member of CAS Student Central and Gamma Iota Sigma and was awarded the CAS Trust Scholarship in 2017. Kate joined Travelers and the Actuarial Leadership Development Program (ALDP) in 2018; she is currently on her final rotation with the ALDP in Personal Insurance Actuarial Pricing where she is focused on the auto line of business. Kate is an Associate of the Casualty Actuarial Society and working towards her Fellowship.
Sarah Johnson
Sarah Johnson is an Actuarial Manager working in a Corporate Actuarial role at Travelers Insurance, and one of her favorite parts of her job is helping students through webinars, and 1-1 mentoring. Sarah graduated from the University of St. Thomas with a degree in Actuarial Science and was a CAS Trust Scholarship recipient, while being an active member of CAS Student Central. Sarah is pursuing her ACAS with the Casualty Actuarial Society.
---
Mark Your Calendar
---
Search CAS Directory
---