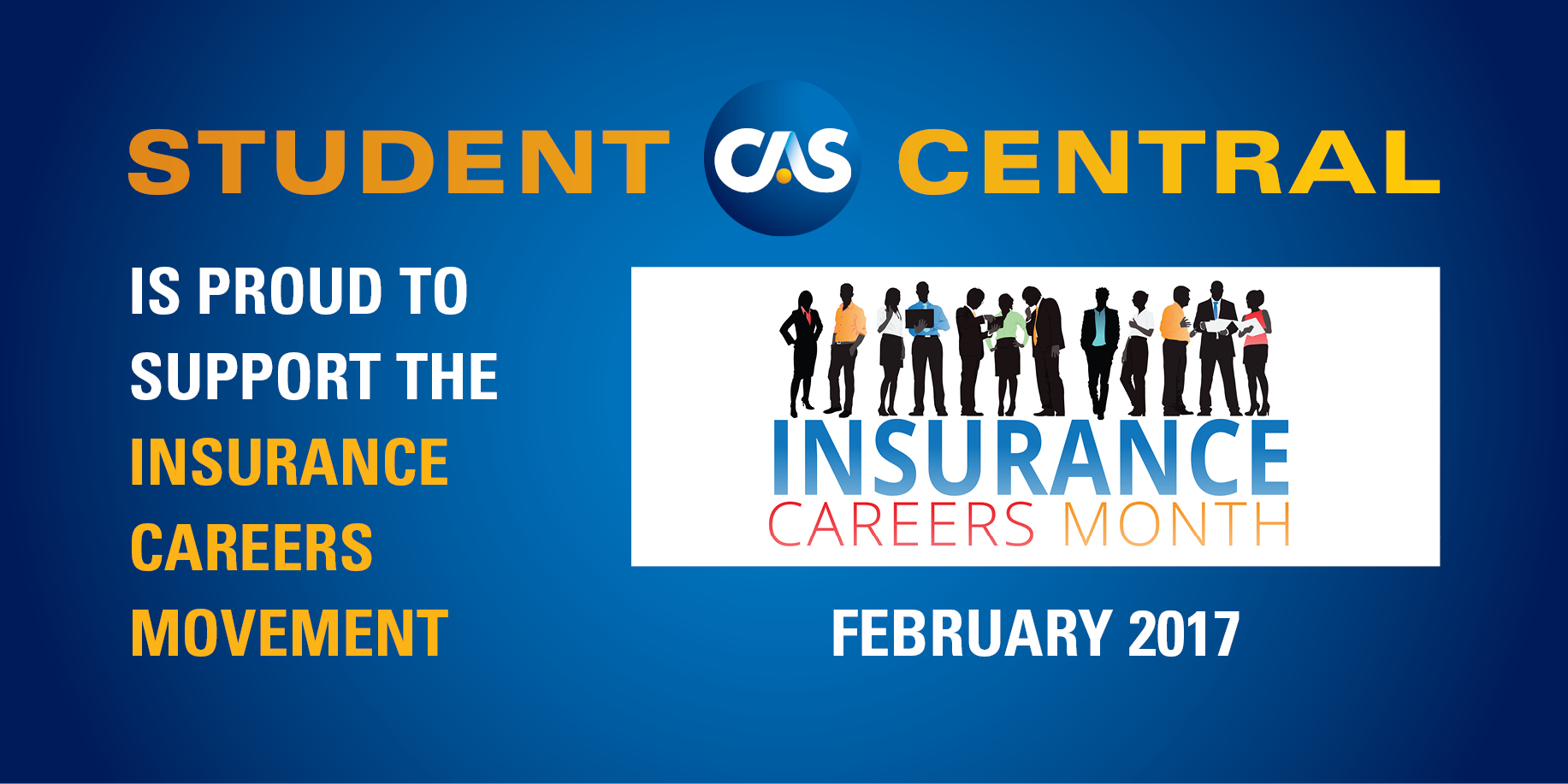 This February marks the second annual Insurance Careers Month campaign. The CAS is proud to participate in this campaign alongside over 600 insurance organizations to spread the message of insurance as the "Career Trifecta": stable, rewarding, and limitless. Insurance Careers Month and the broader year-round movement align well with the CAS's extensive ongoing university engagement efforts. As a CAS Student Central member, you have access to a number of CAS resources created to support you on your path to a career in the property and casualty insurance industry.
We pose the following questions to help you determine whether you are taking full advantage of these resources!
Have you checked to see whether a CAS University Liaison is assigned to your school?
The CAS University Liaison Program matches practicing actuaries with universities to help facilitate the partnership between actuarial science programs and the actuarial profession. University Liaisons are available on an ongoing basis to share their insights about the insurance industry and the actuarial profession. Liaisons typically visit campus 1-2 each year to speak and present at student events, actuarial club meetings, and in class. They are prepared to answer your questions on a variety of career related topics including the exam process, landing your first internship, networking, and more! Check the CAS University Match List to determine whether your school has a volunteer assigned. If your school does not have a University Liaison and you'd like to request one, please complete the following form. You can also use the form to submit questions about the volunteer on the match list for your school.
Do you know what CAS Student Programs are being offered in 2017?
The CAS offers student programs at five meetings and seminars annually. Attendees are invited to spend the day meeting and networking with practicing actuaries, and learning more about the CAS and P&C Industry. Check out the list of programs taking place in 2017. For details on registering for any of these programs contact Tamar Gertner, CAS University Engagement Manager.
Have you attended a CAS Student Central Webinar or listened to a recording?
These live, one-hour webinars are offered 1x per semester and cover a variety of topics. Each webinar is recorded and is available to watch in the CAS Student Central Online Community File Library. Stay tuned for an invitation to the upcoming spring webinar!
Previous webinar topics have included:
The Entry-Level Job market for Actuaries: What's Hot, What's Not, and How to Position Yourself for Success
Predictive Analytics and Data Science for Aspiring Actuaries
Excel and R for Actuaries
Career Paths in the Property and Casualty Actuarial Profession 
Do you read the monthly CAS Student Central Newsletter?
The newsletter is sent out the first Thursday of each month and will inform you of important news items from the CAS and hot topics in the property and casualty insurance industry that you can reference on your next job interview! The communication also highlights upcoming dates related to exam sittings and registration deadlines, scholarship applications, and networking events. The newsletters are archived in the CAS Student Central Newsletter section of the website. 
Have you heard about the CAS Trust Scholarship?
The CAS Trust Scholarship is awarded to up to three deserving students per academic year. First place will receive a $10,000 scholarship, and Second and Third Place, if chosen will each be awarded a $5,000 scholarship. The upcoming scholarship deadline is March 1, 2017, and scholarship recipients will be announced in May. The objective of this merit-based scholarship is to support college and university students' interest in the property and casualty actuarial profession and to encourage the pursuit of the CAS designations.
Have you checked out the CAS Career Center's database of actuarial internship opportunities in the property and casualty field?
The CAS Career Center offers a user-friendly platform to search for property and casualty internships. Students are offered free and confidential resume posting, options to save internships that are of interest, and more!
We encourage you to take advantage of these resources available to support you on your career path throughout Insurance Careers Month as well as year-round. Additionally, visit the Insurance Careers Month website to see the list of campaign partners and supporters offering additional resources for students.
Please contact CAS Marketing and Communications Coordinator Arnulfo Moreno with any questions.
---
Mark Your Calendar
---
Search CAS Directory
---