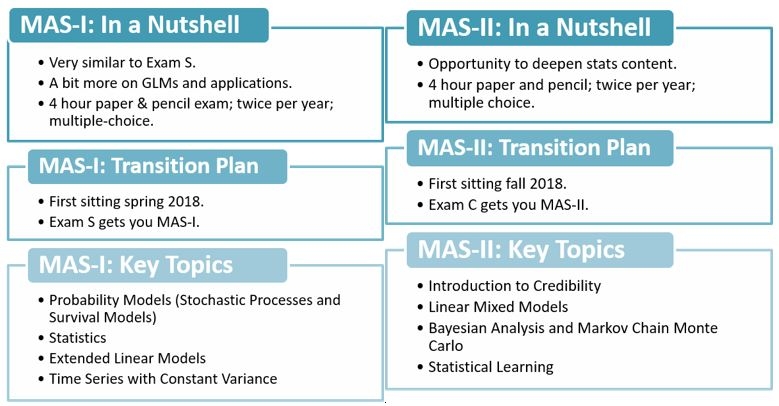 CAS Student Central hosted a webinar last month to provide you with actuarial exam study tips and techniques, and to update you on recent changes to CAS credentialing requirements. The webinar was presented by Ken Fikes, FCAS, Director at The Infinite Actuary, and Rick Gorvett, FCAS, CAS Staff Actuary.
Didn't get the chance to catch it? Not to worry! You can watch the live recording  through the Student Central online community. Additionally, this blog post provides a recap of the information that was covered.
Let's start with the exam updates.
Last January the CAS announced the creation of two new exams being offered in 2018, Modern Actuarial Statistics I and II (MAS-I and MAS-II). On the webinar Rick Gorvett discussed how these exams address the emerging needs of future actuaries and their employers, and provided information on the format, transition plan, and key topics for each new exam. He also walked through the transition rules and commonality with the SOA's exam requirements.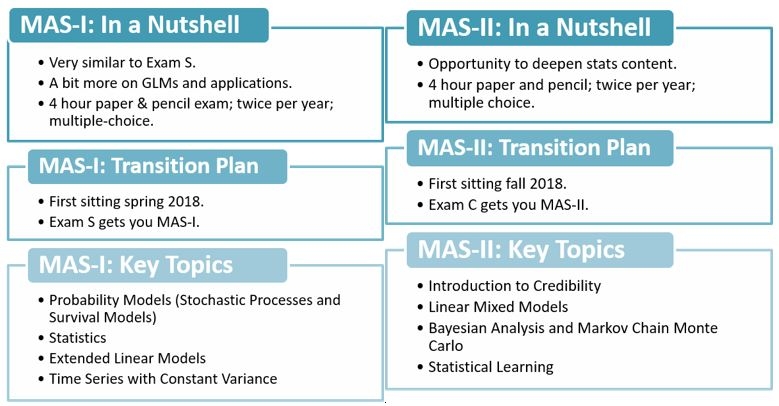 Moving along to study resources and tips!
Ken Fikes from The Infinite Actuary covered a number of topics, applying concepts from Stephen Covey's "The Seven Habits of Highly Effective People," to help you successfully study for actuarial exams. Outlined below are a few key tips and techniques he shared during the webinar. We encourage you to view the recording to access the full list of recommendations.
Practice Problems
Aim to finish learning the actuarial exam material 4-6 weeks prior to your exam date so you have adequate time to practice problems. Learn to understand what each problem is asking and apply your knowledge to get the correct answer.
Speed Matters
When taking the preliminary actuarial exams, you will have about six minutes to solve each problem. As you are working through problems, keep a list of those that you missed and those that took you significantly longer than six minutes to complete.
Practice Taking the Exam Two to Three Weeks Before Your Scheduled Exam Date
This will serve two main purposes:
To prepare your mind and body for what you will experience on exam day. For example, use a timer, don't take breaks, take the exam at the end of a long day when you are tired. Familiarize yourself with the stress and fatigue you might encounter during the real exam.
To test what you know and how fast you can work the problems! Once you've identified your strengths and weaknesses, you can focus on specific areas to improve your results. Don't waste your time taking exam after exam without understanding what you missed.As members of CAS Student Central, you have access to free practice exams for P and FM made available by The Infinite Actuary! Take advantage of this resource available to you.

Where to Study

Pick a place where you can focus and not get distracted. Turn off your phone. Avoid wasting extra time preparing for the exam because of interruptions.

Tailor your study activity to your surroundings. Watch a video lesson or listen to a recording during your commute. Review flashcards during lunch or while walking.

When to Study

Determine when you study most effectively. It may work well for some people to study early in the morning and during their lunch breaks, while others may find it more effective to study after work or on the weekends. Once you figure out the timing that works best for you, make this study time a priority and stick with it!

Make a Schedule

It is important to make a schedule and ensure that it offers flexibility in case you get ahead or behind of schedule. Try to stay ahead so you can account for unexpected conflicts that may arise at work or in your personal life.

---

CAS Student Central thanks Rick Gorvett and Ken Fikes for presenting the fall 2017 webinar.
---
Mark Your Calendar
---
Search CAS Directory
---