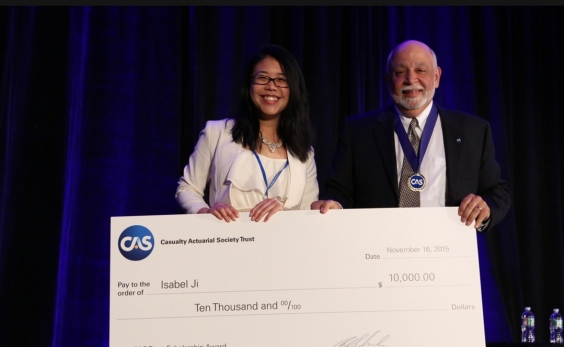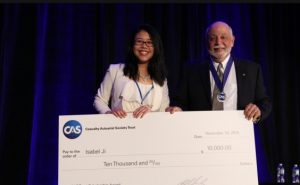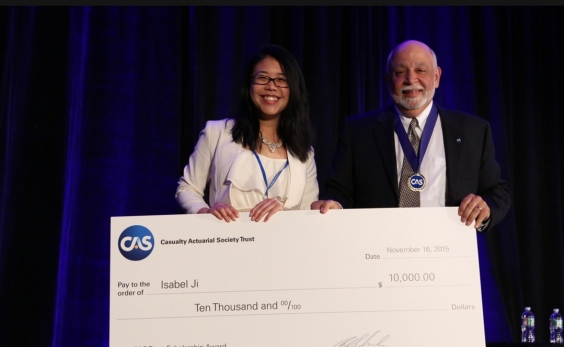 For more than a decade, the CAS Trust Scholarship has been awarded annually to post-secondary student leaders dedicated to a career in casualty actuarial science. I am grateful to have been selected as one of this year's winners and thrilled to have been offered an invitation and all-expenses-paid trip to the 2016 CAS Annual Meeting in Philadelphia, on top of the hefty $10,000 check towards my university tuition.
Attendance at the Annual Meeting is a valuable professional development opportunity — and a rather rare one for pre-ACAS candidates. (A surprising number of my interactions with other attendees included the following exchange: "Are you a new Associate? New Fellow?" "Neither." "Wait, how are you here?" "I won a scholarship!")
I attended several fascinating conference sessions, which ranged broadly from an interactive workshop that taught us how to more effectively present technical topics; to a presentation about the current connection between data science and actuarial science; to a guest keynote showing us how actuaries, as business professionals, can apply marketing principles to make our ideas more "contagious".
The presentations were interspersed with numerous networking breaks, giving attendees a chance to refresh old connections as well as forge new ones. The CAS Student Program, a full-day event tailored for a select group of Student Central members, was yet another forum to connect, this time with volunteer mentors and actuarial students from local colleges.
The CAS Trust Scholarship is much more than a (material) offset to tuition costs. It is an uncommon chance to meet and learn from actuaries across all geographies and all casualty actuarial disciplines — people who may have traveled down the very paths that you aspire to navigate in your own actuarial career. It is a way to educate yourself about the profession that you seek to join, the challenges that it is facing, and the brilliant efforts of actuaries and other risk managers to turn those obstacles into opportunities.
I urge you to pursue the 2016 CAS Trust Scholarship, and witness for yourself the vast benefits of this experience.
Isabel Ji is a 4th year actuarial science and economics student at the University of Waterloo, currently completing an internship at Intact Financial in Toronto, Canada. She has previous experience with Intact in commercial lines and personal lines pricing, and has also interned in U.S. P&C consulting. She has held several leadership positions within the Actuarial Students' National Association (ASNA), an organization run by and for undergraduate actuarial students across Canada.
---
Mark Your Calendar
---
Search CAS Directory
---