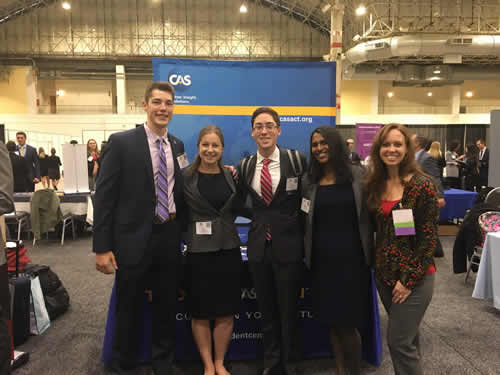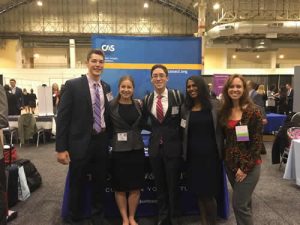 The Casualty Actuarial Society (CAS) joined over 625 of the top insurance, risk management and actuarial science students and advisors from 65 colleges and universities across North America at the Gamma Iota Sigma (GIS) 47th Annual International Conference October 4-6, 2018 in Chicago, Illinois. As a Sustaining Partner of GIS and a Platinum Conference Sponsor, the CAS had an active presence at the three-day conference, themed "Amplifying Disruption." The CAS presented two educational sessions, interacted with students at the career fair, and met with university faculty.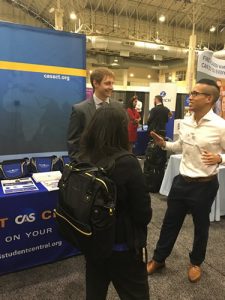 The conference offered students exposure to the insurance sector and programming related to its many diverse career paths. With 84 exhibiting organizations and nearly 600 internship and entry level job interviews, the conference remains the most comprehensive event for the next generation of the insurance industry. The CAS provided a booth staffed with CAS member volunteers, who shared their advice and insights as practicing actuaries with students. CAS volunteers included Mallika Bender, Meghan Goldfarb, Chris Gross, James Hollman, Carlo Lahura, Alisa Walch, and Chase Wurdeman.
The two educational sessions led by the CAS included:
Understanding Predictive Analytics
This session, presented by Meghan Goldfarb, FCAS, CSPA, Architecture Director at State Farm and Chris Gross, ACAS, President of Gross Consulting, covered how to get started in predictive analytics and provided examples of real world actuarial applications.
Warranty Case Study
This session, presented by Alisa Walch, FCAS, Actuarial Studies Program Assistant Director at the University of Texas at Austin, took the students through an interesting insurance application, delving into a smart phone warranty case.
In addition, the CAS:
Delivered a presentation to university faculty at the Faculty Roundtable.
Participated in a gathering of insurance industry trade and professional organization representatives at the Association Roundtable.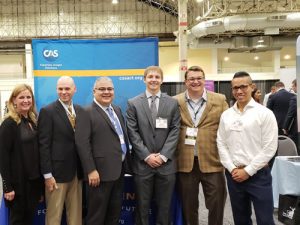 Also of note, during its meeting held in conjunction with the conference, the GIS Board of Trustees approved its new President, CAS Member Wesley Griffiths, FCAS, Second Vice President and Actuary at Travelers. In addition, the Board appointed Mike Boa, Chief Communications Officer at the Casualty Actuarial Society, to his third term on the Board.
Notable industry-leading events that took place at the 2018 Conference:
GammaSAID, a groundbreaking student-focused initiative fostering meaningful dialogue and action across the industry around diversity, inclusion, and authenticity, facilitated the exploration of these topics throughout the program, with an interactive presentation during the Recruiters Roundtable, and in sessions led by Chief Diversity Officers and students from the GammaSAID Council.
Insurance Nerds Day, a new event featuring 20 engaging Learning Labs, a Distracted Driving Luncheon presented by Travelers, and an engaging line-up of speakers for Nerdy Nanotalks.
In partnership with the Insurance Industry Charitable Foundation (IICF), students and advisors held a letter-writing community service project to benefit Cradles to Crayons and Operation Gratitude, kicking off GIS's 5th Annual Week of Giving.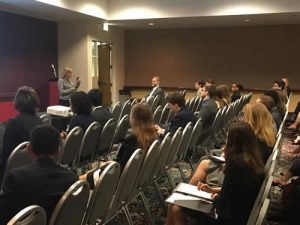 GIS is committed to developing and sustaining a robust collegiate talent pipeline and connecting students who are interested in pursuing careers in insurance to opportunities across the industry.
The next GIS Annual Conference will be held in Dallas, Texas.
###
About the Casualty Actuarial Society
The Casualty Actuarial Society (CAS) is a leading international organization for credentialing and professional education. CAS credentials demonstrate the expertise to identify, analyze and advise on the potential financial impact of risk and uncertainty. Professionals educated by the Casualty Actuarial Society empower business and government to make well-informed strategic, financial and operational decisions.
About Gamma Iota Sigma
Incorporated in 1965 and boasting an annual membership of over 4,200 students and 25,000 alumni from a growing network of over 80 colleges and universities throughout North America, Gamma Iota Sigma (GIS) is the industry's premier collegiate talent pipeline with over 50 years of experience engaging students and preparing them for careers in insurance. GIS is the only organization of its kind and is the solution to the industry's talent gap issue, pursuing a mission to promote, encourage, and sustain student interest in careers across all functional areas in insurance. GIS is committed to growing and supporting the number of highly qualified students entering the industry; to that end, not only has its core programming meaningfully expanded and diversified to include such initiatives as GammaSAID, One Campus at A Time, and the recently launched 2018 ITC Student Program in collaboration with InsureTech Connect, the number of GIS students and active chapters has more than doubled in recent years and continues to grow. In partnership with Sustaining Partners, corporate supporters, professional organizations, trade associations, and other industry collaborators, the full spectrum of GIS programming provides its members with valuable interaction with the industry, as well as the tools to pursue and succeed in an insurance career. For more information, visit: GammaIotaSigma.org.
About the GIS Annual International Conference
First held in 1973, Gamma Iota Sigma's Annual International Conference is the largest international event of its kind convening top talent looking to enter the insurance industry with representatives from companies and organizations who recognize the importance of a talent pipeline and sustaining interest in industry careers. The conference attracts the very best and brightest students throughout North America pursuing careers across all segments of risk management and insurance. For more information, visit: GammaIotaSigma.org/events/international-conference/
---
Mark Your Calendar
---
Search CAS Directory
---