Geographic Regions | Types of Employers | Companies that Employ CAS Members
CAS credentials are highly respected and provide our members with opportunities for advancement and growth throughout their actuarial careers. Located all over the United States, Canada, and around the world, CAS members are employed by a variety of companies and organizations.
Geographic Regions
World
With 8,342 members and growing, the CAS is represented by members who are located across the globe. Approximately 83% of CAS members live in the United States and 11% live in Canada. The remaining 6% are distributed across the rest of the world.

The CAS is proud to be represented by members from every region of the world. Outside of the United States and Canada, you will find the greatest numbers of members living in Asia, the Caribbean, or Europe.
CAS Membership Percentages Outside of the US & Canada

| Region | Percentage |
| --- | --- |
| Asia | 48.0% |
| Europe & Russia | 23.4% |
| Caribbean | 21.8% |
| Middle East | 2.0% |
| Australia & South Pacific | 2.2% |
| Africa | 0.6% |
| Central America | 2.0% |
United States
Approximately 6,909 CAS members are located in the United States, with the majority living in the Northeast and Midwest, where many large insurance companies are headquartered. However, the number of members who live in the Southern and Western regions of the United States is steadily growing.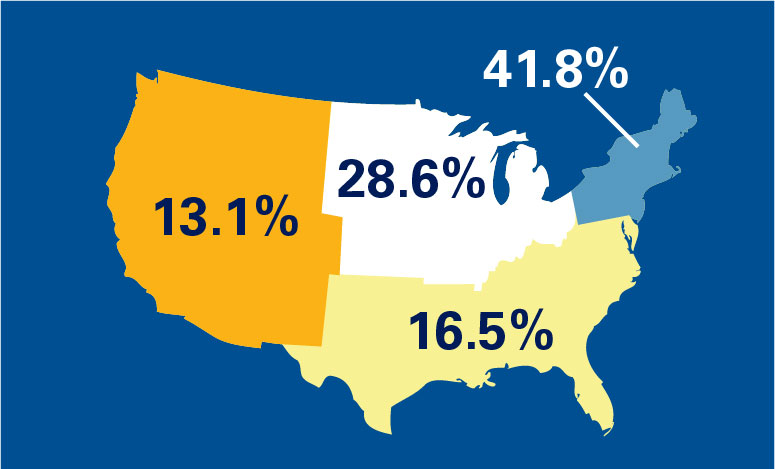 States with the Highest Population of US-Based CAS Members

| Region | Percentage |
| --- | --- |
| Illinois | 11.8% |
| Connecticut | 9.4% |
| New York | 9.2% |
| New Jersey | 8.7% |
| California | 8.0% |
| Pennsylvania | 6.2% |
| Massachusetts | 6.4% |
| Ohio | 4.2% |
| Florida | 3.9% |
| Texas | 3.4% |
| Wisconsin | 3.0% |
| Minnesota | 2.7% |
| Georgia | 2.5% |
| Washington | 1.6% |
| Iowa | 1.6% |
Canada
Canadians make up about 11% of the CAS member population, with about 895 members. The greatest number of Canadian members live in the provinces of Ontario and Quebec. In fact, more CAS members live in Ontario or Quebec than live in Ohio or Texas.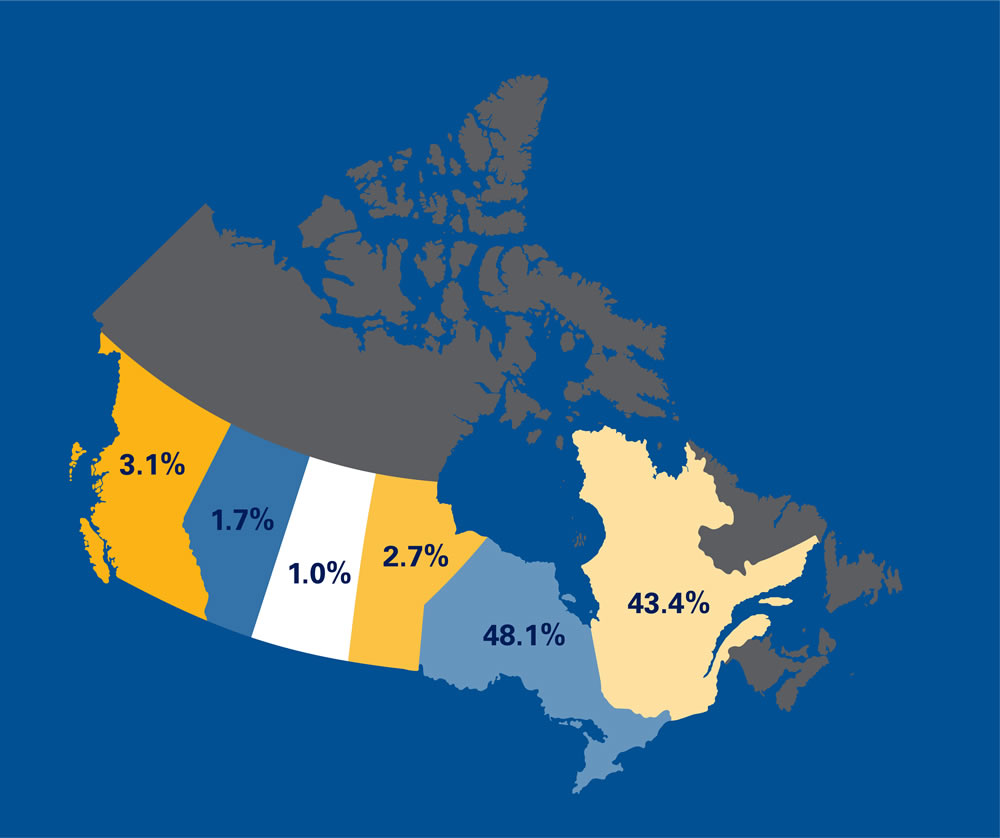 Canadian Membership by Province

| Region | Percentage |
| --- | --- |
| Ontario | 48.1% |
| Quebec | 43.4% |
| British Columbia | 3.1% |
| Manitoba | 2.7% |
| Alberta | 1.7% |
| Saskatchewan | 1.0% |
Types of Employers
From property & casualty insurance companies, to consulting firms, and even government agencies, CAS members work for many different types of organizations.
Property and Casualty Insurance Companies – 53.8% of members employed
Property & casualty insurance companies provide protection against first-party damage or loss on things that are owned (property) as well as third-party injury or damage (casualty). Property & casualty insurance is categorized together because insurance companies are licensed to write and package policies that cover both categories.
Consulting Companies – 15.3% of members employed
Consultants can be employed by national firms or in small practices. They are contracted to work with outside companies on a project-by-project basis and are billed on an hourly basis. Consulting work often requires travel and provides a variety in daily work and responsibilities.
Reinsurance Companies – 8.7% of members employed
Companies that sell reinsurance specialize in the sale of insurance to insurance companies. Reinsurance is a transaction in which a ceding company pays a reinsurer a premium for protection against the loss or losses that the ceding company may sustain under the policies that it has issued. Reinsurance is purchased by the ceding company as a means of stability, increasing company capacity, and protection against catastrophe.
Organizations Serving the Insurance Business – 12.5% of members employed
Organizations that serve the insurance business offer a variety of services. These businesses may provide insurance rate and loss recommendations, statistical and actuarial services, analysis of industry trends, underwriting policy language, along with other resources.
Brokers and Agents – 2.2% of members employed
Companies that act as insurance brokers or agents are the middlemen in the transaction of insurance sales, between the insurance company and the company/individual who is purchasing the insurance. Brokers and agents have the ability to sell products from a variety of insurance companies.
Life, Health, and Accident Insurance Companies – 0.7% of members employed
Life, health, and accident insurance companies sell coverage that provides for the payments of benefits as a result of death, sickness, or injury. Each of these three industries provides a specific type of protection to the insured.
Government – 1.7% of members employed
Federal, state, and local governments have a wide range of responsibilities and often establish various departments or agencies that are responsible for the management and administration of specific functions. CAS members are employed by many different governmental organizations that oversee public programs or ensure compliance with regulatory laws.
Academic – 0.5% of members employed
Academic organizations include institutions of higher education as well as groups that work to advance a specific discipline through research and scholarly publications.
Other Industries – 4.6% of members employed
Companies that Employ CAS Members
Well over 1,000 different companies employ members of the CAS. The table below lists the companies that employ the largest percentages of CAS members.
Companies Employing the Highest Percentage of CAS Members

| Company | Percentage |
| --- | --- |
| Liberty Mutual Group | 5.3% |
| The Travelers Companies | 3.6% |
| Zurich (including Farmers) | 3.0% |
| AIG | 2.6% |
| Towers Watson | 2.3% |
| Chubb | 2.4% |
| Marsh (including Guy Carpenter & Oliver Wyman) | 2.7% |
| The Hartford | 1.7% |
| Intact Insurance Company | 1.9% |
| Milliman, Inc | 1.7% |
| CNA Insurance Companies | 1.3% |
Mark Your Calendar
Search CAS Directory