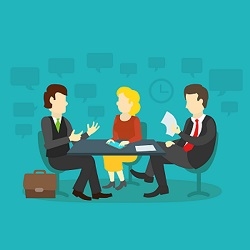 The CAS University Engagement Committee contacted Actuarial Careers, Inc., and invited them to write a blog post to provide you with tips on how to successfully advance through an interview process. We thank Actuarial Careers' Robyn Taylor, Senior Vice President, for writing this post to share with members of CAS Student Central.  
Did you ever wonder why you didn't make it to the next round of interviews for a new job?  You looked great, you showed up on time, and you gave the hiring manager a firm handshake – all the while smiling and showing what a good fit you would be for the role.  Well, there are some finer points to advancing through the interview process that take a little more work and preparation.  Here's what you need to do next time so you don't get eliminated early.
Research the employer: The internet is your friend.  In this day and age, if you can't take the time to read over the company's general background information you are doing yourself a disservice.  At the very least, you should know who owns the company, whether or not it is publicly traded, and any big news items that have appeared over the last 12 months.
Know your resume inside and out, and be able to provide concrete examples of your skills:  Employers want to know that you have the substance to back up the words on your resume.  Too often, I hear managers say "Gee, she looked great on paper, but she really couldn't tell me what she had been doing!"  Also, be prepared for technical questions related to your work.   If you say you know SAS or SQL, for instance, you need to be able to field questions on the topic.
Be ready to ask intelligent questions:  You should have at least three or four questions regarding the job or the company prepared in advance.  Good topics are day to day duties, the actuarial career path at the company, and if the company anticipates any new projects or initiatives over the next six to twelve months.  Inappropriate questions are related to salary, benefits, and vacation time.  Save these until you receive an offer.
The truth is, you can never be too prepared for an interview.  If you want to be the one offered the position with the actuarial team you've admired so far, you need to show you are a candidate who brings thoughtfulness and substance to the table.  With a little pre-game work, you can do it!
About Robyn Taylor: Robyn Taylor is a Senior Vice President working with our Property and Casualty candidates and clients. She places candidates at all levels, from students through Chief Actuaries. Robyn has over 20 years' experience working in both insurance and recruiting.  After working in human resources and recruiting in the entertainment and business information specialties, Robyn moved into insurance agency management. During that time, she became a licensed life and health agent. She joins her expertise in both recruiting and insurance as a Property and Casualty recruiting specialist for the company.  You can reach Robyn at rtaylor@actuarialcareers.com.
Actuarial Careers, Inc.® is a highly specialized executive recruiting firm exclusively dedicated to the placement and advancement of Chief Actuaries, Fellows, Associates and pre-Associates on a worldwide basis.  Our dedicated Property & Casualty team is continuously surveying the market for top candidates and exciting new opportunities. The entire professional staff of Actuarial Careers, Inc.® is committed to providing the finest service in the industry.  See more at www.actuarialcareers.com.
---
Mark Your Calendar
---
Search CAS Directory
---