Start Your Actuarial Career Off on the Right Foot with These Exclusive CAS Student Central Resources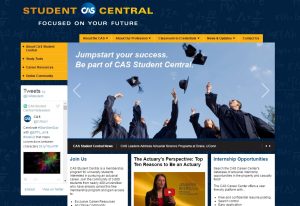 Two years since its inception, the CAS Student Central Program now reaches more than 4,000 student members from over 400 universities worldwide! The growth of the program can be attributed to the wide range of benefits and resources made available to support you on your actuarial career path. We've highlighted a few of the key resources below, and we invite you to share your recommendations on additional materials or benefits that you'd like to see made available to Student Central members in the future!
CAS Student Central teamed up with The Infinite Actuary to provide exclusive access to free practice exams on P and FM, beyond those already offered on The Infinite Actuary website.  Each problem on these full length sample exams offers a video solution to ensure that students have a strong understanding of the material. Typically these exams are only available to students through the purchase of an Online Seminar through The Infinite Actuary, however you can access this FREE resource on the CAS Student Central website.
CAS Student Central Webinar Recordings
Each semester we offer a webinar exclusively for actuarial students. The webinars are a great way for you to get advice on the actuarial profession and get a better understanding of the tools and concepts that actuaries use in their day-to-day work. If you haven't been able to attend a Student Central webinar yet, or want to go back and revisit a webinar topic you enjoyed, you can access recordings of all of the webinars in the Student Central Online Community.
You can also download past webinars through the links provided below:
Invitations to Networking Events
Have you attended a CAS Student Program yet? The CAS offers student programs at five meetings and seminars annually. Attendees are invited to spend the day meeting and networking with practicing actuaries, and learning more about the CAS and P&C Industry. Check out the list of remaining programs in 2016. For details on registering for any of these programs contact Tamar Gertner, CAS University Engagement Manager.
CAS Spring Meeting, May 17, 2016, Seattle, WA
CAS Seminar on Reinsurance, June 6, 2016, Boston, MA
CAS Casualty Loss Reserves Seminar, September 19, 2016, Chicago, IL
CAS Annual Meeting, November 15, 2016, Orlando, FL
Additional opportunities may be available through your CAS Regional Affiliate. Visit the CAS webpage for the list of regional affiliates.
The Online Calendar of Events makes it easy for you to access important dates and deadlines relevant to actuarial students all in one place. The calendar lists upcoming actuarial exam dates, scholarships deadlines, webinar and in-person event registration dates and more! Notice an event or deadline that's missing from the calendar? Let us know and we'll make the update.
As the actuarial field grows more competitive, companies are increasingly looking for candidates that have internship experience. CAS Student Central provides you with a list of internship offerings available through the CAS Career Center. You can find relevant listings and sign up for automatic email notifications of new listings that match your criteria. Read the full list of features on the CAS Student Central website.
---
Mark Your Calendar
---
Search CAS Directory
---