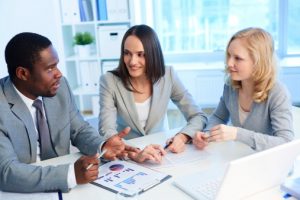 The days of naps, classrooms, hanging out on campus, and studying will soon be a distant memory! Okay, maybe not the studying part; but the time comes when we must transition from living the college life to having a full-time career. It can be scary, and sometimes even difficult. The important part is that we learn from those around us and embrace the change.
The first thing to do is figure out how to organize your day. You are most likely going from taking a few classes, at random times, to working eight hours straight. I remember the questions I was asking myself at first: What time do I need to wake up? How long is my commute? How can I carve out time to study for my actuarial exams? When can I manage to eat in the middle of all of this? Your mind will ramble on with questions, and it can become overwhelming. However, it's important that you take it one step at a time. It will take a few days, or even weeks, to find equilibrium, but it will happen. Don't stress!
Secondly, you have to excel in a profession in which you have little to no experience. How? By becoming a mentee, formally or informally, and enveloping yourself in your colleagues' expertise. They are experienced, extremely smart, and have a lot to offer. All you have to do is not be afraid to ask questions and be willing to learn. Rome wasn't built in a day. Be confident in your abilities and willingness to learn, and your colleagues will ultimately guide you to success.
The final step is developing a system in which you can work toward achieving excellence in your career, while still studying and passing actuarial exams. There is a key to this: Understand that everyone is different. You will be receiving a lot of recommendations regarding how to study. Actuarial exams—and studying for them—are different from tests in college. It's important that you listen to what others have to say because you may discover new ways to approach this new material. However, you must also remember that you are the only person who knows your study habits, and how you like to learn – don't lose sight of that! You might decide that you want to study for four hours each day. You could study for two hours in the morning and two hours after work, or you could try to fit in all four in the evening. There are many options, but you will be studying a lot, so you have to find a balance that works for you. It's essential that you find time for the gym, or whatever helps you relieve stress. Keep a clear mind and stay focused on growing in this profession and passing exams.
Grasping these concepts may very well be the key to your successful career. The more you can accomplish in the beginning, the more opportunities you'll find available to you in the future. Good luck and happy studying!!
About Virginia Jones:
After graduating from Towson University in Towson, Maryland with a Mathematics and Economics degree, Virginia is now a full-time Actuarial Consultant for Aon Global Risk Consulting. Aon is the leading global provider of risk management, insurance and reinsurance brokerage, and human resource solutions; with approximately 65,000 employees in more than 120 countries throughout the world.
---
Mark Your Calendar
---
Search CAS Directory
---