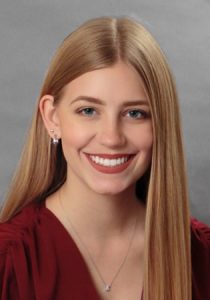 My name is Kinsey Turk I am a junior in the actuarial science program at Arizona State University. I anticipate graduating with my 4+1 degree in actuarial science in Spring 2021 for a total of four years. Last summer I passed IFM and interned full time at Optumas. Additionally, I have passed P and FM.
Outside of my academic career, I am passionate about the Spanish language and culture. Currently, I am pursuing a minor in Spanish and while still learning, my most played songs are all Reggaeton. In addition, when I am not busy using my "left" brain, I love to explore my artistic side by drawing. I am always creating special birthday or holiday cards for friends and family.
Why would you recommend a career in the insurance industry to current college students?
Most people's first impressions of insurance as a career is that it is boring. This could not be farther from the truth! The insurance industry is incredibly diverse; even during my time as an intern no two days looked the same.
Why did you become an actuary?
I chose to begin the path of becoming an actuary because I love math. However, I wanted to do more than just math. I wanted a career where I would use a variety of skills such as business knowledge, programming, communication, and leadership. The job of an actuary combines all of these and much more.
What drew you to a career in property and casualty insurance?
Property and casualty insurance offers me flexibility to try different areas of the P&C sector and decide where I fit best. I can choose from admitted lines, excess and surplus, or even consulting. Within these areas the diversity continues with the lines of business and the parts of the ratemaking process I can choose to experience.
What can students do now to prepare for a career in the industry?
Get ready to mingle, network, and chat! Communication is not a skill everyone has but it is one that everyone can learn. So much of a career in the insurance industry relies on your ability to interact with your peers and superiors.
---
Mark Your Calendar
---
Search CAS Directory
---