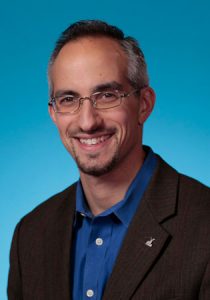 My name is Dan Post, and it is hard to believe that I have been an FCAS for 19 years!  I graduated from Lebanon Valley College with a degree in Actuarial Science (and a minor in music) and have held a variety of actuarial positions at several insurance companies.  I have spent the last 16 years at The Hartford, and my current job is a non-actuarial position as a Product Manager for Personal Auto/Homeowners insurance.  Outside of work, my wife and 4 kids keep me busy, and I enjoy editing our home movies and developing game tournaments for the family.  I also have fun hiking with my dogs and training for obstacle course races.
Why did you become an actuary?
Growing up, I always enjoyed math and statistics and wanted a job where I could apply those skills to solve problems.  I was fortunate to hear about the profession early on and focus my education on building those skills.  I met a couple of actuaries along the way who shared their perspectives and helped me realize that this would be a good fit.
What drew you to a career in property and casualty insurance?
I had the opportunity to work as an actuarial intern over two summers – one with a Life insurance company and one with a Property & Casualty (P&C) company.  I was drawn to a P&C role by the creativity needed to solve problems in a constantly changing world.  Vehicle safety features and driving patterns change every year, climate change impacts the severity of catastrophe events, workplace safety evolves over time, and legal patterns change for each local market across the country.  A P&C actuary needs to say on top of these changes and adapt their calculations and decisions.  Covid-19 is the latest challenge that we are facing in the industry, since 2020 patterns look like nothing we have observed in our history.  Actuaries need to adjust their data and forecasts as we come out of the pandemic to appropriately set insurance rates and reserve enough money to pay claims.  If you enjoy using math and data to problem-solve and innovate, a P&C role might be for you!
What can students do now to prepare for a career in the industry?
Take classes in math, business, finance, and economics to learn about topics on the exams and the concepts you will deal with on the job.  Seek out leadership experiences in school or outside of school – this will help you work with others toward a common goal, a valuable skill for an actuary.  Also, connect with people in the industry – this is easier than ever with social media, and you can talk to a teacher or professor if you need help getting started.  BeAnActuary.org has some great information and resources, as well.  Each perspective that you gain can help you determine whether the profession is right for you.
---
Mark Your Calendar
---
Search CAS Directory
---