On the Road with the CAS President: My Visit to the University of Connecticut
After a year filled with visits to universities, CAS President Brian Brown closed out the 2017-2018 academic year with a presentation at the University of Connecticut. Read about his experience presenting and interacting with students and faculty.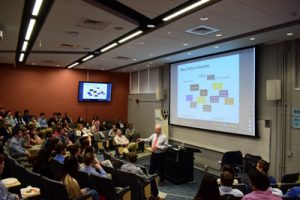 It was a pleasure to visit and speak to the actuarial students at the University of Connecticut (UCONN) recently. UCONN has a long tradition of being one of the most well respected actuarial programs. It is one of the seven schools that has won the CAS University Award for exemplary education of property casualty actuarial students.
UCONN has an outstanding faculty including past CAS President Pat Teufel. Pat had a very successful career, leading KPMG's actuarial practice, before joining UCONN as a professor. Pat has also been a role model to me and I highlighted her in my Actuarial Review article on "Women of the CAS."
UCONN also has three other faculty members who are CAS members:
William Borgen, FCAS;
Matt Jewczyn, FCAS; and
Gao Niu, ACAS.
I spoke to the actuarial students about the CAS and the advantages of choosing a casualty career path. The students were very engaged and asked a lot of good questions:
What was my most interesting assignment;
Compare and contrast consulting to a company job;
Why did I choose a casualty career path.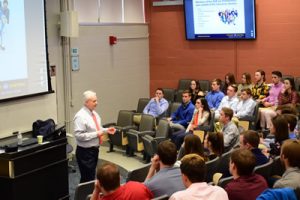 I mentioned that my most interesting assignments were merger & acquisition assignments where I represented the potential buyer. I liked digging into the details of the potential target company and highlighting the positives and negatives to my client. The most stressful and enjoyable situations involved finding and communicating problems with the target company that no one else found.
Comparing a consulting job to a company job is difficult as each company and each consulting firm is different (actually individual offices at consulting firms are different). However, as a general rule:
At a consulting firm you may work more hours and probably initially make a little more money;
At a company, you will probably have a little more structure to the process and type of work you do;
At a consulting firm you will probably travel a little more.
As I mentioned in previous posts, I chose the casualty field because I thought it would involve more statistics and I was good at and enjoyed statistics. Also, I like that there are many different types of casualty coverages (e.g., warranty, ocean marine, D&O).
After my talk I had dinner with the faculty and a couple of students at UCONN. The students and faculty are very impressive. Alexa Cosenza will graduate from UCONN next week, after three years as an undergraduate (quite an accomplishment) and she has passed 4 exams. She will start her career at TransRe in New York. Alexa's father is an FCAS, Tom Cosenza, the Chief Actuary at Pillar Capital Management in Bermuda. Alexa is also an enormous football fan and may know more about football than anyone else I have ever met. She may eventually be the Billy Beane of pro football with her analytic skills.
Matt Edson is interning at Travelers this summer. Matt interned at CIGNA last year and Travelers two years ago. Matt will be President of the student actuarial club at UCONN next year, and will continue in his role a CAS Student Ambassador Congratulations, Matt.
Meghan Smith Epaul met me before the event and gave me some background on the actuarial program at UCONN. Meghan has great communication skills, passed 5 exams, and is a Milliman Actuary of Tomorrow Scholar. Meghan accepted a position with CIGNA.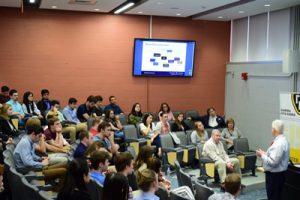 I also loved interacting with the faculty. I got along with Jim Trimble (Actuarial Science Program Director) well even though he is a lifelong and avid Green Bay Packer fan. Growing up in Chicago, I am a lifelong Bears fan – which has not been good the past few years. Jim heads up a wonderful and talented faculty.
Also, Emiliano Valdez teaches a class in Predictive Analytics where one of his recent projects entailed having students estimate default rates for home equity loans based on several variables and write up and present their work. I think this class will do a great job preparing students for the job market.
It was a great visit. I thoroughly enjoyed meeting the faculty and the students. Thank you Pat and UCONN.
---
Mark Your Calendar
---
Search CAS Directory
---