CAS President Visits Ball State University
CAS President Brian Brown recently visited Ball State University, which was one of three schools recognized in 2017 as a winner of the CAS University Award.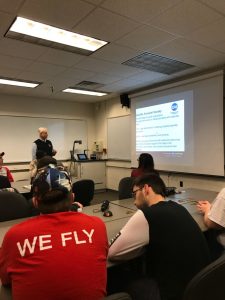 Brown's visit in late February kicked off with a luncheon with actuarial student leaders and faculty, including Professor John Beekman, who started the actuarial science program at Ball State in 1963.
Following lunch, Brown gave two presentations: one to the graduate students and one to the undergraduate students.
Ball State has a thriving graduate program with students from many locations throughout the world, including Africa, Saudi Arabia, and China. "The students had a high energy level and asked a number of good questions," said Brown. "I was impressed with the strong exposure they are getting to predictive analytics. They were very interested in how credit score was first discovered to be predictive for auto accident probabilities and my simple examples of cluster analysis. Also, many of the students are using R, which I believe is positive as R program skills are in demand by employers."
"The undergraduate group was also very energetic," said Brown. "They asked how I chose the actuarial field and what I like about my job."
Brown outlined several aspects of the actuarial career that appeal to him:
Actuaries continue learning throughout their career, through continuing education programs, as well as writing and presenting papers. Continuous learning is essentially a requirement, because the work of actuaries is constantly evolving to address emerging risks and new technologies.
Actuaries get to work with other actuaries, who are a bright and fun group of people.
Actuaries may have the opportunity to travel. "As a consulting actuary, I have been fortunate enough to travel throughout the world," Brown explained.
Actuaries who belong to the CAS join a strong, close community of professionals, with one in three of members volunteering for the CAS. "I have made many strong friendships through my work on CAS committees," Brown said.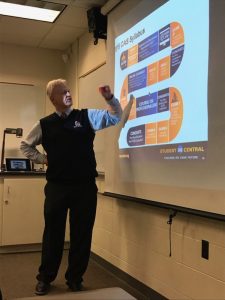 As Brown reflected on the visit to Ball State, he expressed, "I would like to congratulate Gary Dean, FCAS, and a fellow member of the CAS, on building a great program with a diverse student population from many different countries. Great Job, Gary!"
The Ball State visit followed Brown's earlier visit to University of Wisconsin-Madison, as he continues his tour of the 2017 CAS University Award winners. Next stop: St. John's University.
---
Mark Your Calendar
---
Search CAS Directory
---